Every once in a while you run across a unique item that just makes you think. Yes think of a way this might work for you. You think of how to personalize it for your specific needs. Here is such a product. Sold under then name JAHD240BT. Below you will find a few ways the JAHD240BT might change to way you listen to music.
specs

Do you stream music from your phone or a tablet. Would you like to take this option with you in your skid steer,backhoe, mini excavator or any vehicle with 12 volts that you just don't want to install a full stereo system or don't have the space. Add a set of speakers to this amp and you are ready to stream your music. Get as fancy with the speakers as you want or as easy as you want.
NOTE: If you load your phones' music at home with the use of WiFi you will save phone data.
No radio needed, just use the JAHD24BT & Speakers. BLUETOOTH AMP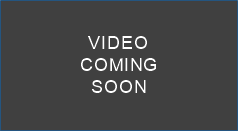 If the easy way is your desire, then surface mount speakers would be the ticket. Below we show you a few options for surface mount speakers. We have arranged them in size. Rule of thumb, bigger is better if you have the room. Volume would be similar in each but bass better on the larger speakers. Hide the JAHD40BT and place the button where you can push it. Check out the cool video on how to set up the JAHD240BT for yourself
SAVE WITH A COMB. Purchase your speaker as a bundle package and
SAVE $10.00
on the total purchase.

This amp is available as a PLUG&PLAY application for easy install on specific Tractors and equipment. Visit our sister site FARM RADIO SUPPLY for more information.
Have a tractor with factory speakers installed and don't want to add a stereo. Use the JAHD240BT KIT and stream with your phone or tablet..
REI 230068
•5"W X 4"H X 3.5"D (excluding mounting bracket)
•Polypropylene / Mylar Weatherproof Speaker
•UV Protected Plastic Enclosure
•30 Watts Max Power
•4 OHMS Impedance
JXHD35
Jensen Heavy Duty
3.5" Mini Speakers
(5-1/8"W x 4-3/8"W x 4-1/8"D).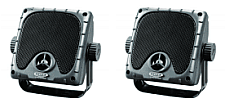 JXHD35 + JAHD240BT $208.99
JAHD240BT $139.00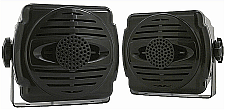 REI 760663
Features: 5" Speaker, 5 oz. Magnet in Heavy-duty Housing (pair)
• 5.42"W x 5.42"H x 4.3"D
• Coax speaker design
• 70 Watts max power
• Mounting bracket included
If you are after a killer sound these are the speakers. Mount to a round or square bar on your lawn mower, skid steer or RTV and you will make a statement for sure. Built rugged to last.
230068 + JAHD240BT $203.49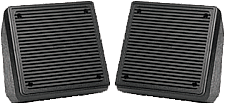 760663 + JAHD240BT $195.72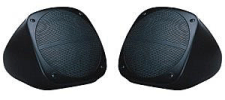 HDS3000 + JAHD240BT $215.97
HDS3000
- Heavy Duty Dual Cone Surface-Mount Speakers
- Max Power Handling: 60 watts
- RMS Power: 30 watts
- Weatherproof Speakers
- Speaker Color: Black
- Overall Dimensions: 6.69" x 4.76" x 4.43" each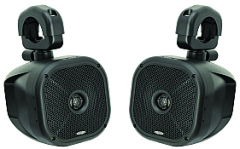 JXHD65ROPS + JAHD240BT $499.98
JXHD65ROPS
• Full range of audio reproduction through 6.5" polypropylene woofer with 1" PEI dome tweeter
• 100 watts maximum handling power
• Waterproof (IPX5)
• Aluminum mounting clamp
• Includes round and square clamp adapters - Fits round bars 1" to 3" - Fits square bars 3" x 1.5" and 3" x 2"
* Weight in at 10 lbs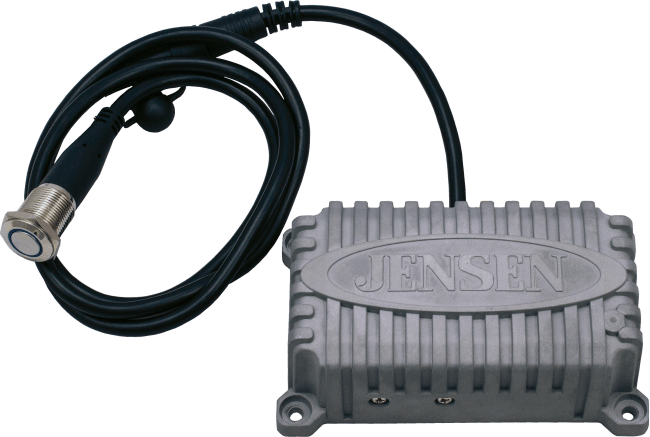 SPECS for the JENSEN Two-Channel Bluetooth Amplifier
•80 watt max power (40 watt RMS)
•Bluetooth audio (AVRCP, A2DP)
•Waterproof (IPX6)
•Illuminated program button
•4 Ohm ~ 8 Ohm stable
•Operating voltage: 10-18VDC
•Frequency response: 20Hz - 20KHz
•Red LED power indicator
•Epoxy potted encolsure
•Corrosion resistant (ASTM B117)
3inW X 5inL X 2in
Summary
Will work as a stand-alone amp. Add a pair of speakers and pair a Blue tooth device to the amp and you can stream music 40 X 2 to the speakers. Unit features a remote mount button to work with pairing

Great for a hard to install vehicles where room would not be available for a surface mount or in dash radio. Amp is waterproof so would work on scooters and exposed vehicles.

OWNERS MANUAL