866.424.0575
Looking for a replacement or new radio for your skid steer. Replace with the JENSEN JHD910 from ASA Electronics
How do you address a consumer need to have a stereo installed in a Skid Steer when there's no room for it. You could redesign the skid steer to option a stereo indash as well as room for a set of speakers or you could let electronic manufactures do what they do best. Identify a need and design a fix for the problem. No room indash so make a surface mount work instead. Hence enter the era of surface mount stereos. This new style of surface mount radios was introduced a few years ago from a Premier manufacture ASA Electronics. Sold under the Jensen brand. This brand has since set the bench mark for all surface mount radios. So much so the major players Bobcat and John Deere as well as others have made the JHD910 their OEM offering. Why is the JHD910 such a good fit for these manufactures?

There are several outstanding features that makes this a perfect fit. Easy to operate functions in a waterproof chassis allows this radio to be used under extreme conditions. What works in a open cab will also work in a enclosed cab. Now load up the radio with a job timer, 7 Channel NOAA Weather band tuner and the ability to maintain your presets and clock for 30 days while the equipment rests between jobs. This unique feature is noted by the 2 wire hookup for the surface mount line. No battery hookup needed.

Another feature that stands out is the front panel AUX hidden behind a rubber flap This 1/8 input allows you to feed your own content into the radio. Download your content on your smart phone. Plug the headphone output into the AUX. Put the radio in AUX mode and you have wired streaming protocol.

This is a heavy hitter in a small mountable package. Loaded with features. It even addresses the sound enthusiasts. Separate bass and treble allow you to tailor your sound. 2 channel output in the form of 15W X 2. You can run more than 2 speakers by wiring your speakers following the acceptable impedance allowed. Enough power to get over most background noise. If you are operating noisy equipment then we suggest you try the optional headphones feature. A 1/4in headphone connector is among the other wires from the JHD910. Mount this connector beside your unit and you will have a easy headphone connector available.

If you own a Bobcat or John Deere skid steer and have a factory optional radio installed you are likely running a version of the JHD910. The manufacture might have a different model number but it is the same as the JHD910. All models share a common 9 pin square connector.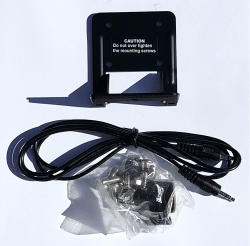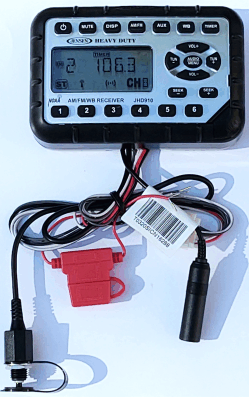 The JHD910 includes a stainless steel 90 degree mounting bracket. This universal style bracket allows various ways to adjust and mount your radio. Leave bracket off and directly mount the unit flush to a surface with the 4 screw (cell phone style) threaded inserts. This configuration allows you to employ standard cell phone pedestals to aid in mounting.

The JHD910 is a powerful molded block of metal that has set the standard for waterproof surface mount radios. The US/Euro tuner allows this radio to be used worldwide. If you want more features you will need to take a look at the JHD 910BT that is exactly the same but with Bluetooth streaming built in or the JHD916BT that offers the most features.. No other manufactured surface mount has the reputation that this line carries. Buy one with confidence. Upgrade the standard JHD910 on your skid steer by just replacing it with a JHD910BT or JHD916BT. Will mount and plug in the same. No wiring necessary except when using the additional options.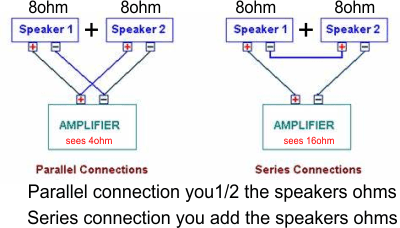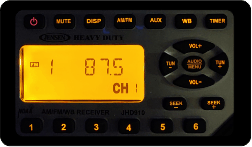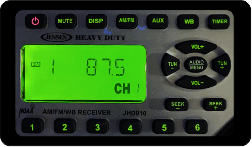 The radio will work with a 4 or 8 ohm impedance per channel. Example; if you have 4 speakers that are 4 ohm each you would hook them up in a series connection. This will give you a 8 ohm impedance for each channel. If they were hooked up in parallel they would be a 2ohm load which is not recommended. Wrong impedance causes the radio to overheat and distort.
The Jensen JHD910 has proven to be a very versatile stereo. Works great of course in a skid steer but will also work where a rugged waterproof application is needed. Examples are lawn mowers, motorcycles, atvs and rtvs. If your vehicle works with 12 volts and you want a radio on it, take a look at the Jensen line of surface mount radios.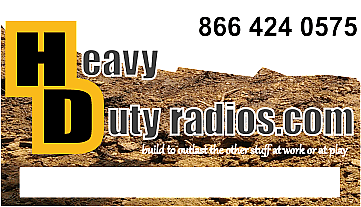 8 little known facts for the JHD910 PRESS AUDIO/MENU to access

1. You can change the brightness of the display screen by selecting either low, mid or high from the menu.
2. You can change the display color from amber as the default to a green color.
3. For WB Alert to work you will need to turn it on thru the menu.
4. If you want the volume to be low or high when it first turns on, adjust it thru the AUDIO/MENU.
5. You can hook more than 2 speakers to the JHD910. see example
6. You can use the supplied 1/8in AUX connector to feed a source into your radio by connecting it to your headphone output connector from your phone. This will usually work with any unit that has a headphone output connector.
7. If any of your speaker wires are shorted to ground the radio will not produce any sound on both channels.
8. If you operate a KUBOTA skid steer you can plug directly into the supplied 9 pin connector. This also works on all Kubota equipment that run the same square 9 pin connector tractor, ATV ect.
JHD 910 $209.00
Setting the Time
How to set the clock is the most asked question for the JHD910. Its not that difficult but it is easy to forget since you don't do this often. So here is the easy way to set your JHD910 clock.
Press DISP for more than three seconds to enter clock setting mode, and the time will flash in the display. Press TUN to adjust the hours or TUN+ to adjust the minutes. When no adjustment is made for ten seconds, the time will be set and normal operation will resume. That was easy, right.